Introduction
In an exciting development for CimpleO, the renowned business ratings and reviews platform, Clutch.co, has recognized our company as the top Web Development Company in Thailand and the second-best in Malaysia. We are proud and delighted to receive this accolade, which highlights our commitment to delivering exceptional web development solutions to our clients. This achievement reflects the hard work, expertise, and dedication of our talented team, and we are thrilled to share this news with you!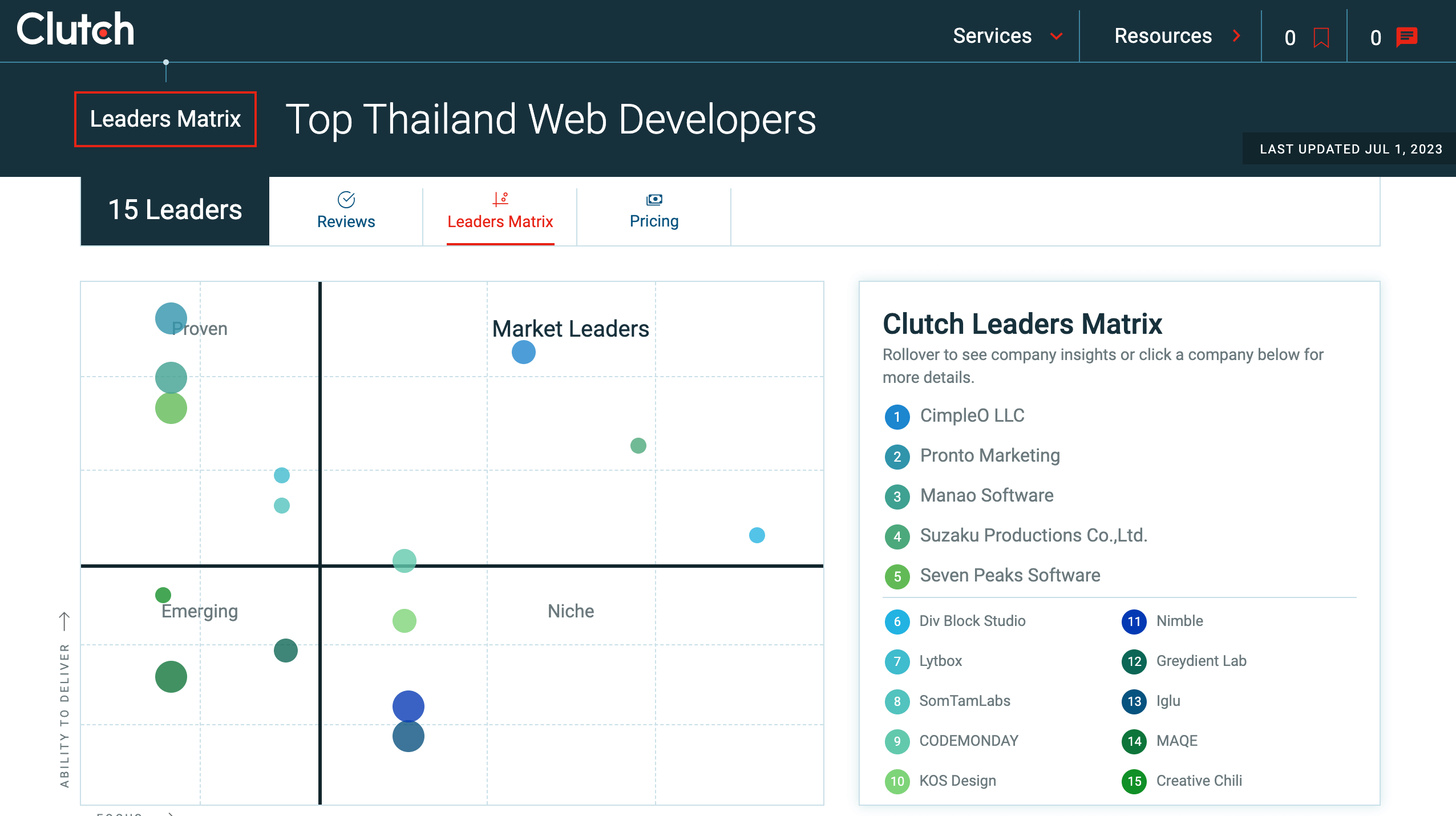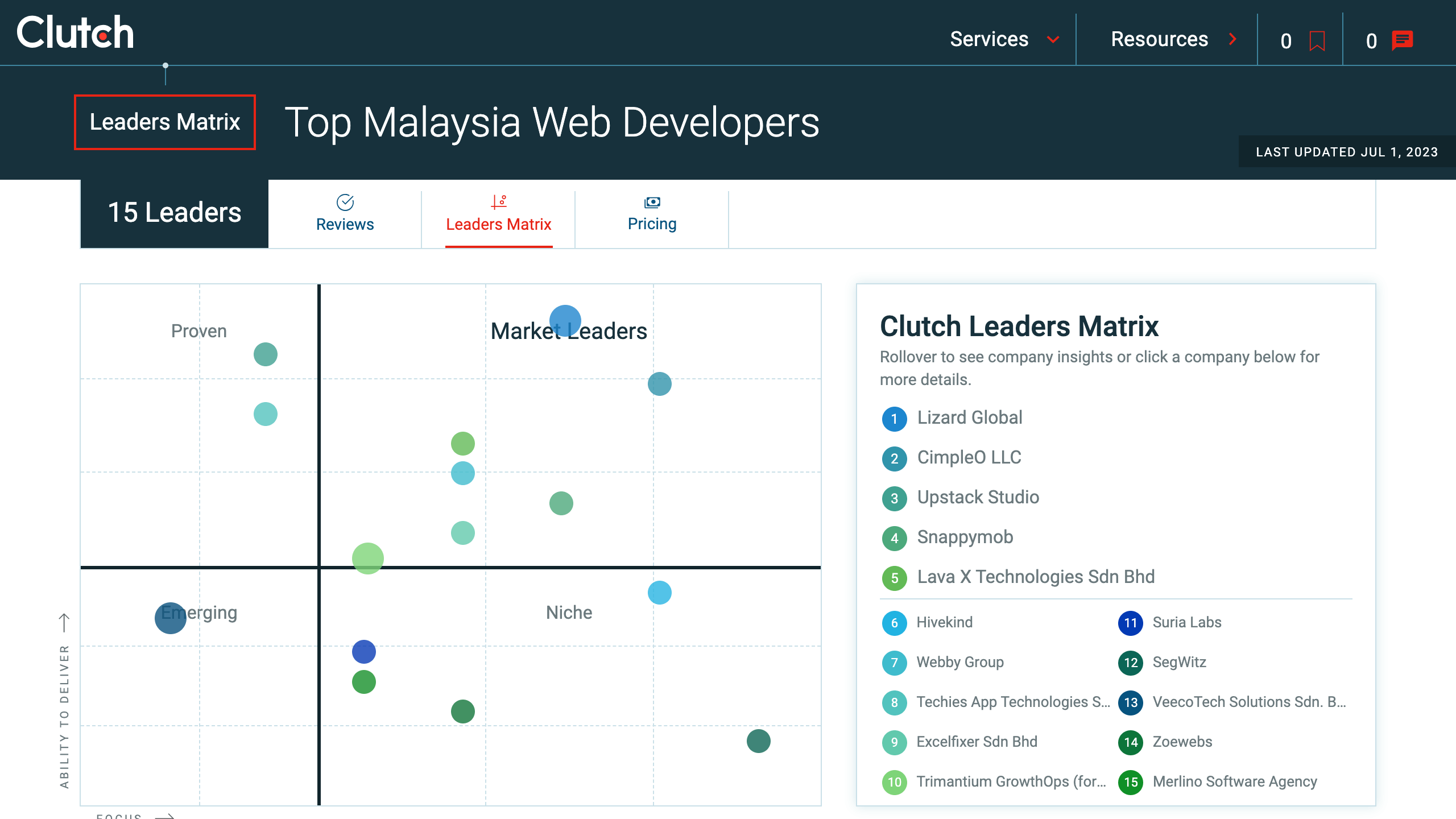 Unveiling the Clutch.co Rankings
Clutch.co, a trusted platform known for connecting businesses with the best service providers, conducts comprehensive research to identify industry leaders. Their rankings are based on factors such as client reviews, market presence, and industry expertise. The fact that CimpleO has been recognized as the #1 Web Development Company in Thailand and the #2 in Malaysia is a testament to our excellence in the field.
Our Commitment to Excellence
At CimpleO, we have always strived to provide our clients with top-notch web development solutions that align with their unique requirements and drive their business growth. This recognition by Clutch.co serves as validation that we are on the right path, and it motivates us to continue raising the bar for quality and innovation in the industry.
Why Choose CimpleO?
Unparalleled Expertise: Our team comprises highly skilled and experienced professionals who possess extensive knowledge of the latest technologies and trends in web development. We consistently upgrade our skills to stay ahead of the curve, enabling us to deliver cutting-edge solutions.

Tailored Approach: We understand that every business is unique, and cookie-cutter solutions don't suffice. That's why we take a personalized approach to every project, working closely with our clients to understand their goals and deliver customized web development solutions that exceed their expectations.

Client Satisfaction: Our clients are at the heart of everything we do. We take immense pride in maintaining long-term relationships and exceeding their expectations. The positive reviews and testimonials we receive from our clients are a testament to our commitment to delivering excellence.

Innovative Solutions: We believe in pushing boundaries and exploring new possibilities. Our team consistently embraces innovative approaches and cutting-edge technologies to deliver web development solutions that are not only functional but also aesthetically pleasing and user-friendly.
Looking Ahead
Being recognized as the leading web development company in Thailand and the second-best in Malaysia by Clutch.co is an achievement that inspires us to aim higher. We will continue to invest in our team's professional growth, stay at the forefront of industry trends, and explore new avenues of technological innovation.
Conclusion
CimpleO is honored to have been named the #1 Web Development Company in Thailand and #2 in Malaysia by Clutch.co. This recognition affirms our unwavering commitment to providing exceptional web development solutions to our clients. We would like to express our heartfelt gratitude to our clients and partners for their trust and support. As we celebrate this milestone, we are more determined than ever to exceed expectations, drive digital success, and help businesses thrive in the dynamic world of web development.