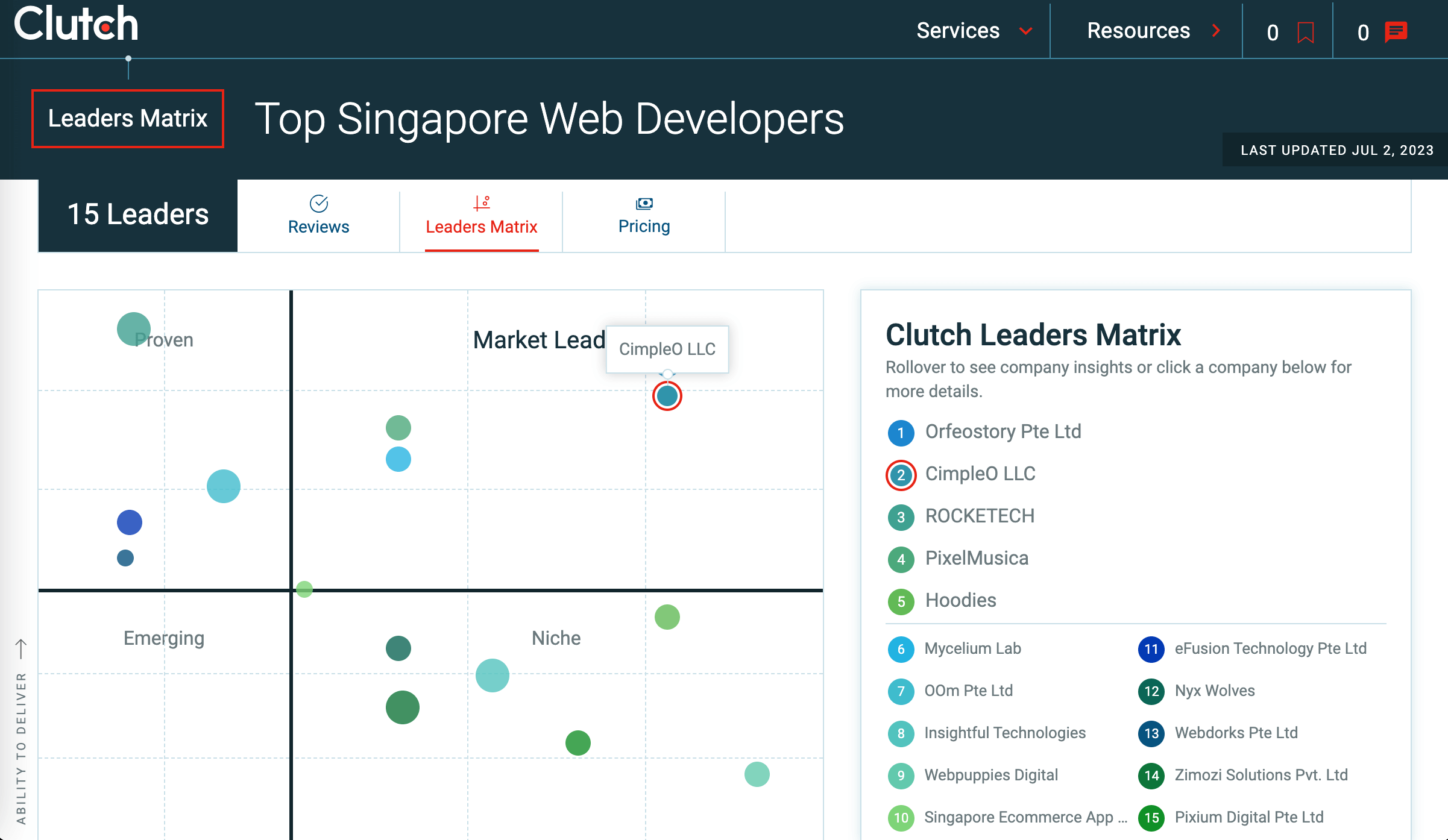 In the rapidly evolving digital landscape, a strong online presence has become imperative for businesses to succeed. Web development companies play a pivotal role in transforming ideas into visually appealing and highly functional websites. Among the plethora of options available, CimpleO has emerged as Singapore's #2 top web development company in 2023, cementing its reputation as a frontrunner in the industry. With a commitment to innovation, impeccable service, and an unwavering focus on client satisfaction, CimpleO has carved a niche for itself in the competitive web development market.
A Dedication to Excellence
CimpleO's rise to the top is not a stroke of luck but a result of its dedication to excellence. With a team of highly skilled professionals, the company consistently delivers cutting-edge solutions that align with clients' unique business requirements. Whether it's creating a stunning e-commerce platform, developing a user-friendly mobile application, or designing a corporate website, CimpleO ensures that every project is executed flawlessly.
Client-Centric Approach
One of the core reasons behind CimpleO's success lies in its unwavering commitment to client satisfaction. The company places clients at the forefront of every decision and goes above and beyond to understand their needs, goals, and vision. By fostering transparent communication and maintaining a strong client relationship, CimpleO builds trust and consistently exceeds expectations.
Innovation and Adaptability
To thrive in the fast-paced web development industry, constant innovation and adaptability are essential. CimpleO embraces emerging technologies, staying up-to-date with the latest trends, and harnessing them to deliver cutting-edge solutions. From responsive web design and user-friendly interfaces to seamless integrations and scalable solutions, CimpleO ensures that its clients' websites are not only visually appealing but also technically robust.
Comprehensive Service Offerings
CimpleO's comprehensive service offerings set it apart from the competition. The company understands that web development is not just about creating beautiful websites but also optimizing them for search engines and providing ongoing maintenance and support. From front-end development and back-end programming to search engine optimization (SEO) and content management systems (CMS), CimpleO covers all aspects of web development, making it a one-stop destination for businesses seeking a complete online solution.
Proven Track Record
CimpleO's impressive portfolio of successful projects speaks volumes about its expertise and professionalism. With a diverse range of clients spanning various industries, including e-commerce, finance, healthcare, and more, the company has consistently delivered exceptional results. The positive feedback and testimonials from satisfied clients further reinforce CimpleO's reputation as a trusted web development partner.
Looking Towards the Future
While being recognized as Singapore's #2 top web development company in 2023 is undoubtedly a significant achievement for CimpleO, the company shows no signs of slowing down. With a forward-thinking mindset and a commitment to continuous improvement, CimpleO aims to push boundaries and set new standards in web development. By staying ahead of the curve and embracing emerging technologies, the company strives to provide innovative solutions that help businesses thrive in the digital age.
Conclusion
CimpleO's remarkable ascent to becoming Singapore's #2 top web development company in 2023 is a testament to its unwavering dedication to excellence, client-centric approach, and commitment to innovation. With a focus on delivering exceptional results, comprehensive services, and a proven track record, CimpleO is undoubtedly a force to be reckoned with in the web development industry. As businesses continue to prioritize their online presence, partnering with a reliable and reputable web development company like CimpleO can pave the way for success in the digital realm.